We had some miles to cover today, so we left early again, and our first stop was between Hidalgo del Parral and Jiminez. The hillside we explored were full of plants, three different Coryphanthas, lots of Echinocereus pectinatus, and Thelocactus heterochromus. But there were also Mamms....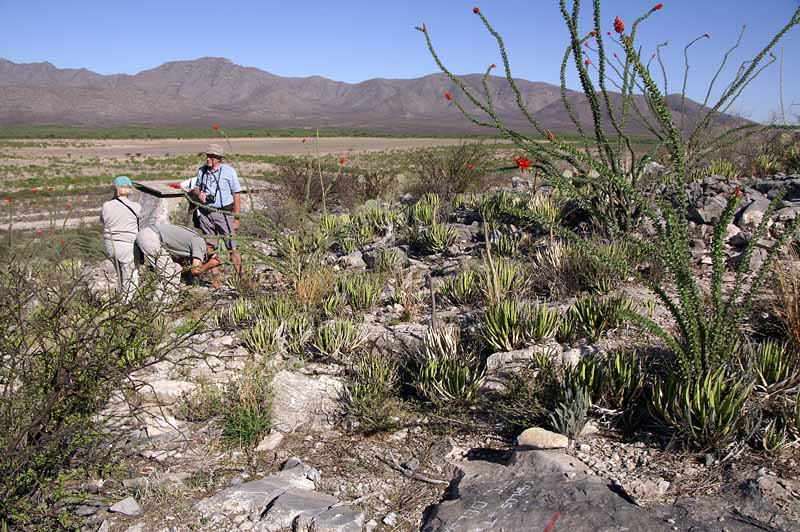 View from the hill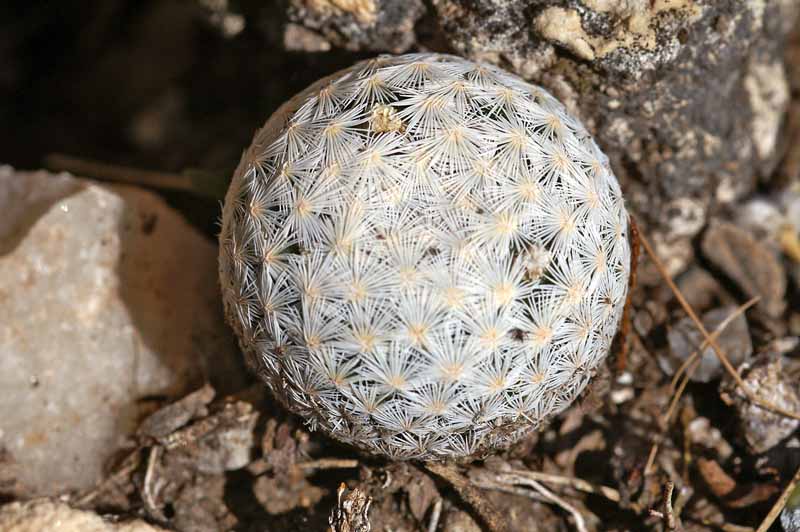 M. lasiacantha egregia
M. lasiacantha egregia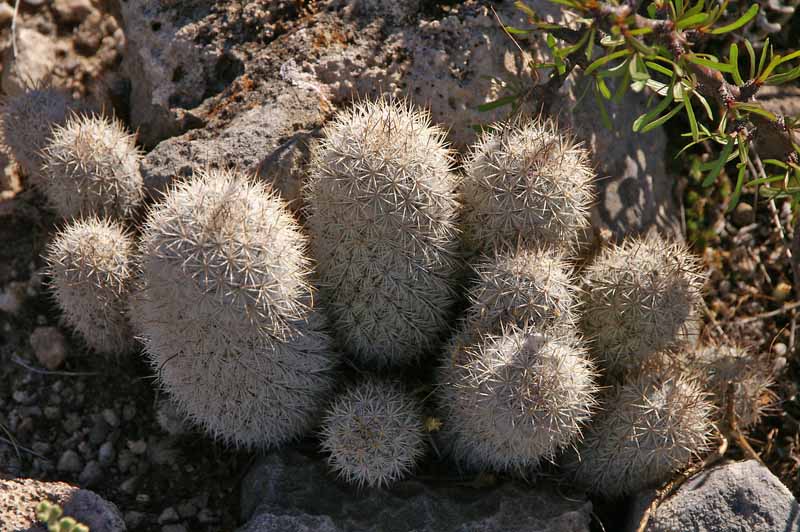 M. pottsii group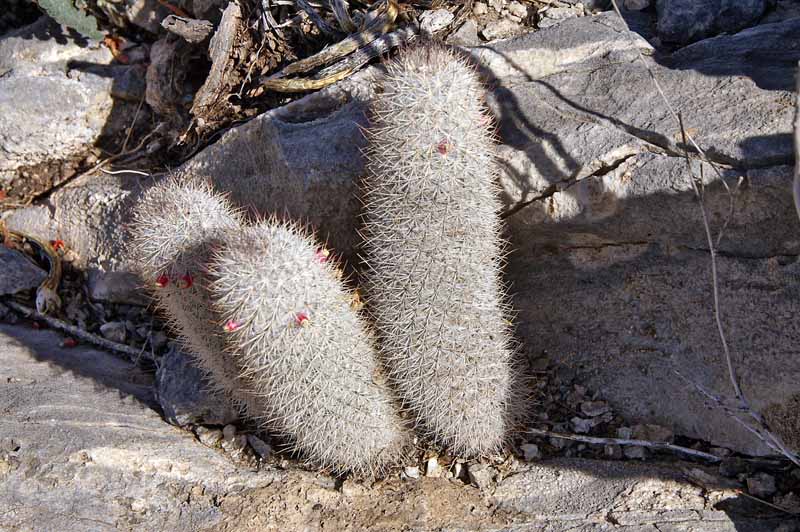 M. pottsii
The rest of the day was spent driving and making various stops, Nothing else to report on the Mammillaria front, but some nice Escobarias, more Echinocereus and Coryphanthas were seen. We reached the city of Chihuahua fairly late.
But the next day were off again at 7:35, taking the road (Mex 16) out towards Cuauhtemoc and then heading south to Cusihuirachi. We stopped at the top of a dirt road, obviously used by construction vehicles which were housed in a nearby garage. At the bottom of the road we crossed a small stream and started to ascend the steep hillsde.
Hillside - site of M. barbata and M. heyderi gummifera
Here I found both M. barbata and a lighter flowered form of M. heyderi, probably gummifera.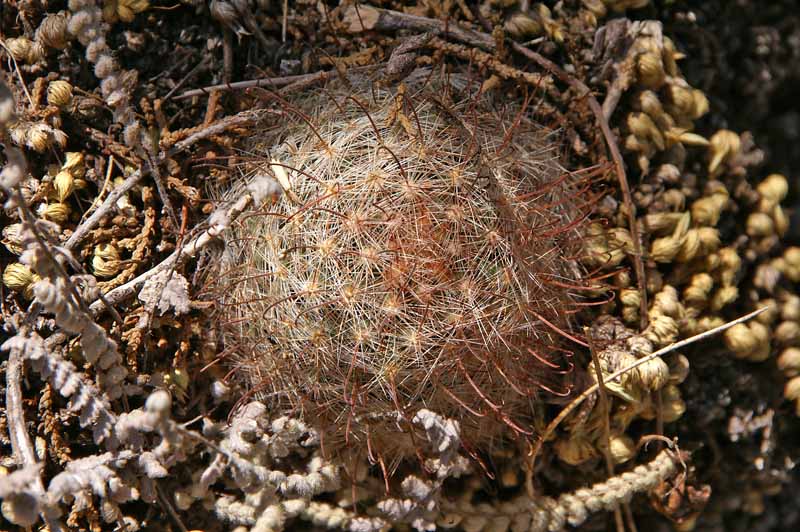 M. barbata
M. barbata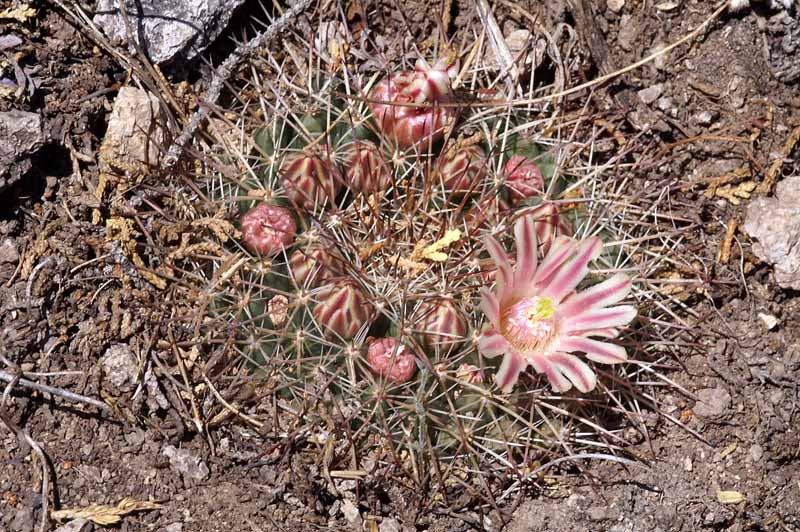 M. heyderi ssp gummifera(?) with much lighter flower
close up of flower
After an abortive stop to explore a hill where we believed that M. wrightii fma wolfii could be found, we continued back through Cuauhtemoc, and headed west on the Mex 16, as far as San Pedro, where we turned south towards Terrero. Near there we stopped and explored an area to the east of the road. First of all we looked for flat rock slabs...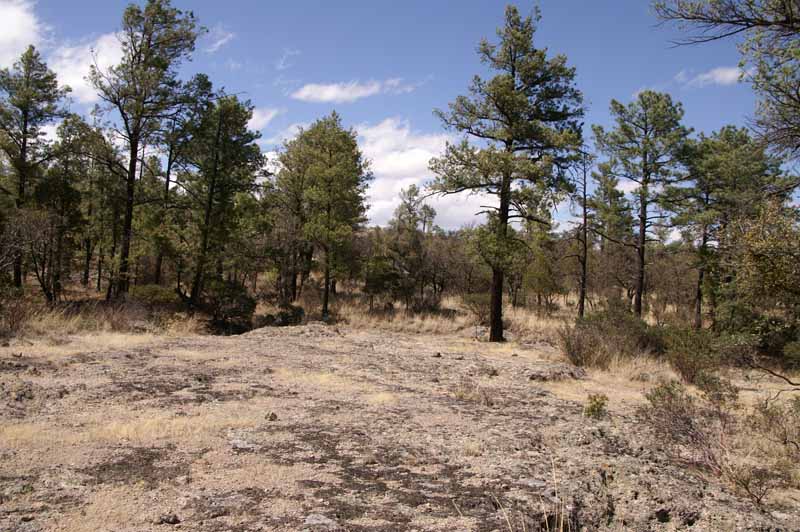 More slabs of flat rock
And in a very similar manner to finding M. theresae in Coneto Pass, we had to look fairly closely..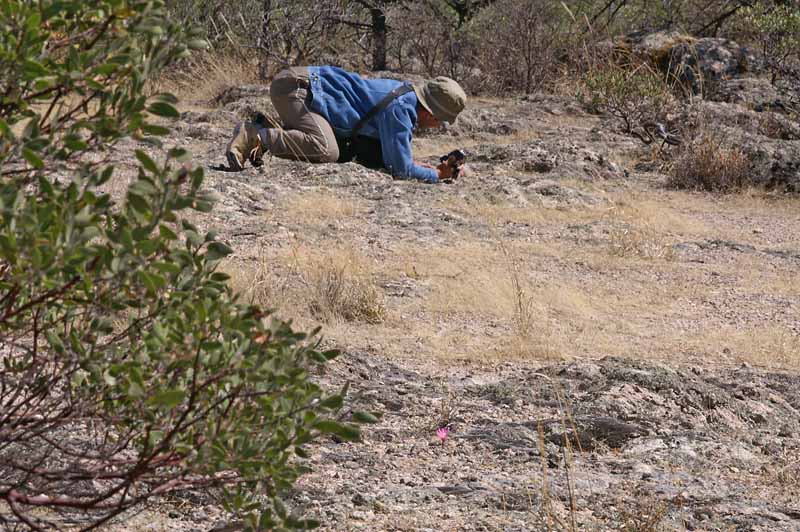 Getting up close and personal
Though here, we were helped by the small plants being in full flower - glorious!!
M. saboe
M. saboe
M. saboe
We were staying up in the mountains not far from the waterfall at Basaseachic, but we still had time for one more stop, where on the north side of the Mex 16 we found lots of Mammillaria longiflora. This population has been described as being ssp. stampferi, but I now understand that there is some doubt, and that it may be simply a northern population of M. longiflora.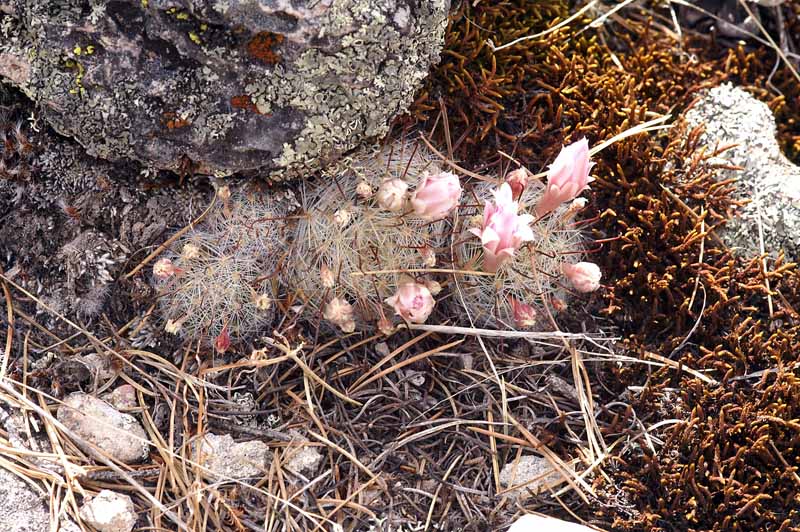 M. longiflora (stampferi?)
M. longiflora (stampferi?)
Then we drove on to what turned out to be a rather rustic hotel, with highly idiosynchratic plumbing, but good food. It was very cold and the temperature when we went to our rooms was below 0C.