Now I introduce myself.
I'm 47 even if sometimes I feel five....
I'm from Northern Italy and in my "non-garden life" I'm a Historical Researcher,
have a Bachelor Degree in art history (Thesis on italian painter Alberto Burri when was P.O.W in Compound Hereford-Texas)
I like Bach music and play Piano.
That is synthetically my background.
I have cultivated roses and over time I deepen my experience in their hybridizing.
For some years I observed my husband's Marco (nickname Zaskar) cacti plants.
He prefers cactus but has 2 large mammillarias too.
I love mammillarias and I have some of them that I particularly care (I've some cacti too).
I also have a guardian for my mammillarias called Bart and another boxer dog, my beloved Uma.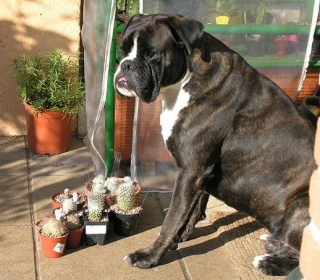 My collection is composed (in costant update) by:
1-Mammillaria Geminispina ssp san ciro;
2-Mammillaria Matudae (ssp serpenteiformis?)
3-Mammillaria Matudae cristata;
4-Mammillaria Fraileiana;
5-Mammillaria Bombycina;
6-Mammillaria Duwei;
7-Mammillaria Karwnskiana;
8-Mammillaria Gracilis ssp snowcap;
9-Mammillaria Slevinii;
10-Mammillaria Thornberi;
11- Mammillaria Grahamii;
12- Mammillaria Theresae