After a night in Uruapan, we headed out to a river gorge called Barranca Honda. Eventually we decided that since we couldn't descend very easily, we had to find anoher way, and passing over the bridge discovered a track that led downwards. It lead to a couple of shacks right at the bottom of the Barranca, and to the river itself. Some of us (not including me) ventured to cross the river and explore the cliffs opposite, which seemed possible homes for plants. However, well before they returned having found nothing, we less adventurous types had wandered along at the base of the cliffs on "our" side. Growing onthe shady rock face were a number of Mammillarias, that we identified as Mammillaria xaltianguensis.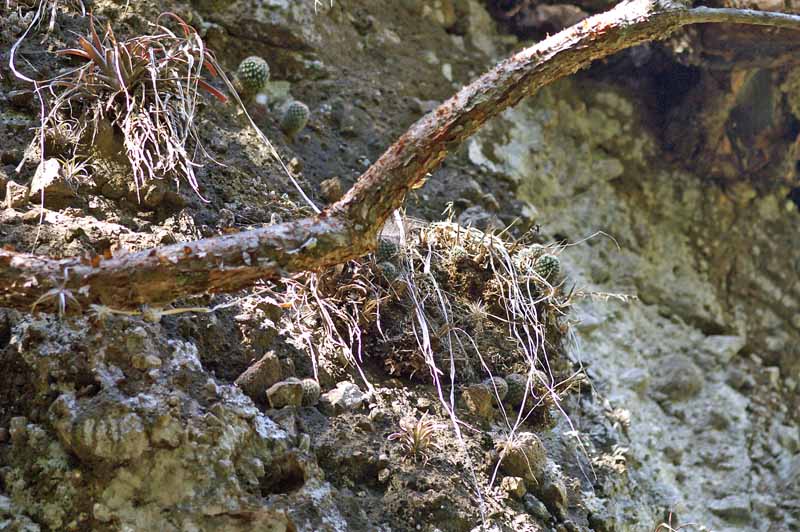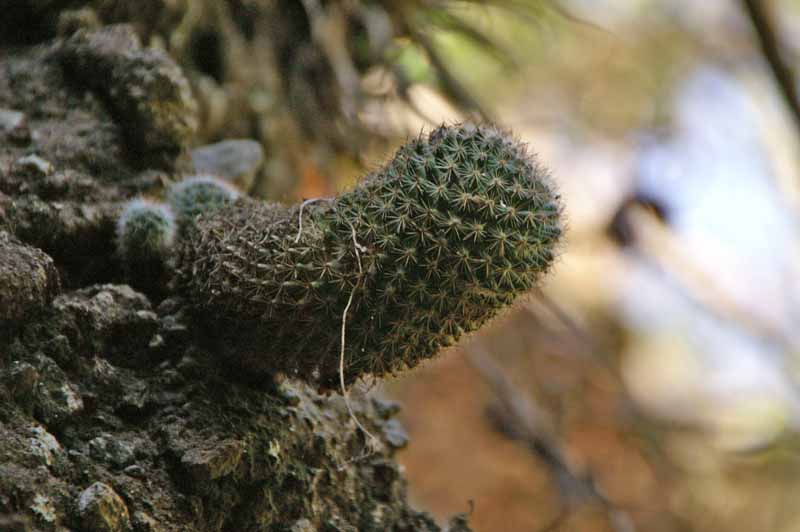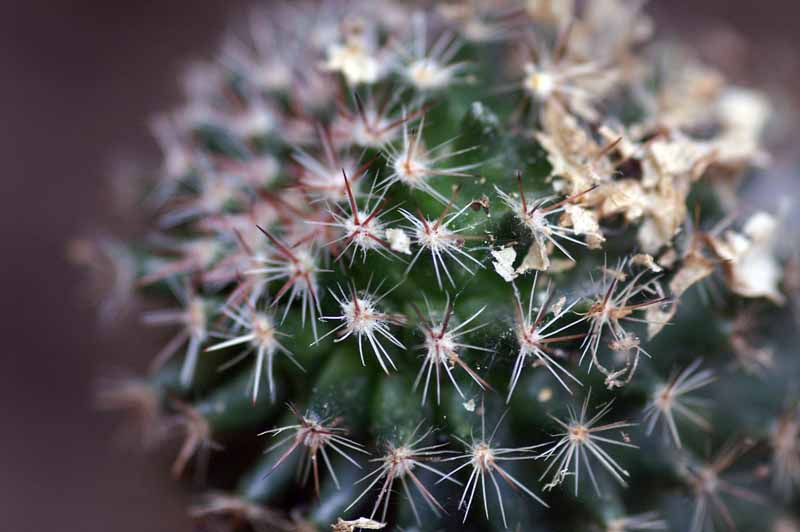 After this excitement, we headed south west towards the Infernillo lake area, but made one stop before we got there. Here we found, growing in relatively open ground, only partially shaded by trees, Mammillaria beneckei - the form known as balsasoides - so different in size and habit to those we had seen much earlier in Sinaloa.
Typical area of ground where we found M. balsasoides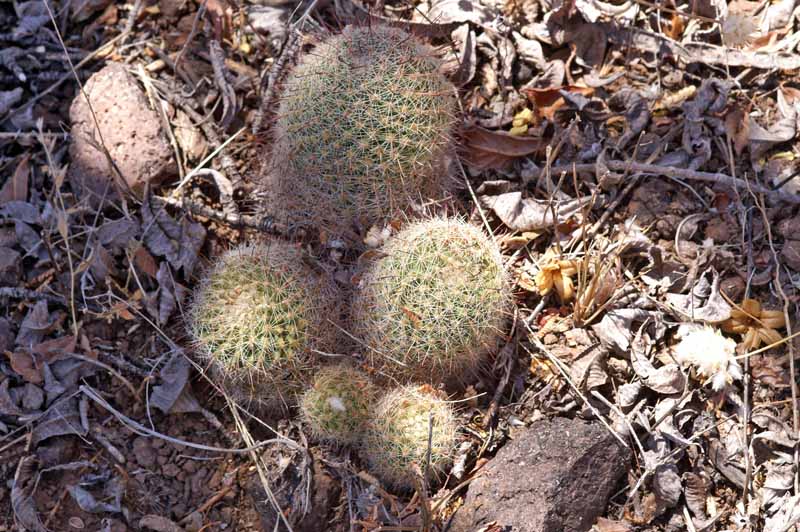 A nice clump of M. balsasoides
We then headed down to an area beside the lake, and a village called San Pedro Barajas, the object of our search being Ferocactus lindsayi. All we knew was that these plants grew in the hills behind the village, but that could have meant anywhere within a 10km area. So we asked for help from a couple of villagers, and they said they knew, and would send their two sons with us to show us the way. One young man in each vehicle, and we set off, towards the hills and on a dusty track. Eventually after a couple of kms we could drive no further, and set off on foot. The boys said that it was only about a 35 minute walk, but we were no longer 16, nor used to the heat, which was a humid 38C by then, and it took us more like an hour, up increasingly steep tracks and then a dry river (stream) bed. Near the top we saw the first Ferocacti, and would have stopped there, but the boys urged us on, and after getting past a particularly nasty rock pool with all sorts of flying and stinging insects (only 3 stings!), we reached the more open hilltops, where we found more Ferocactus plants, but also two Mammillarias.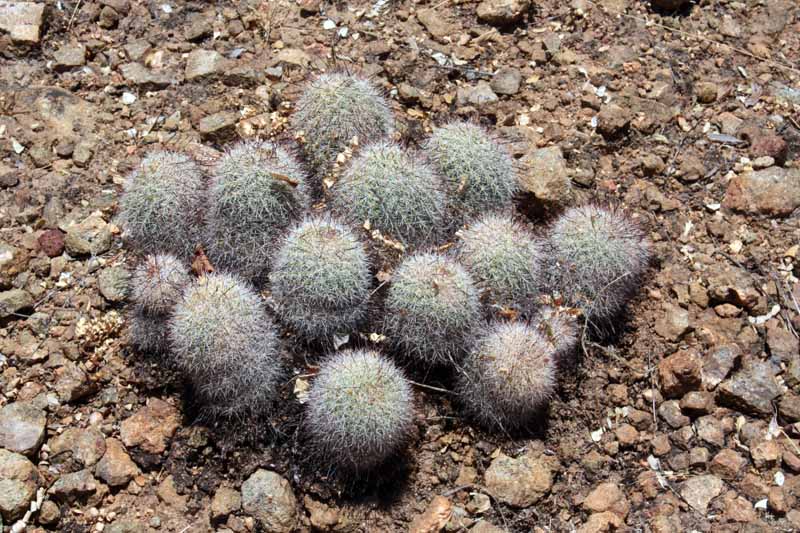 Another form of Mammillaria beneckei (balsasoides)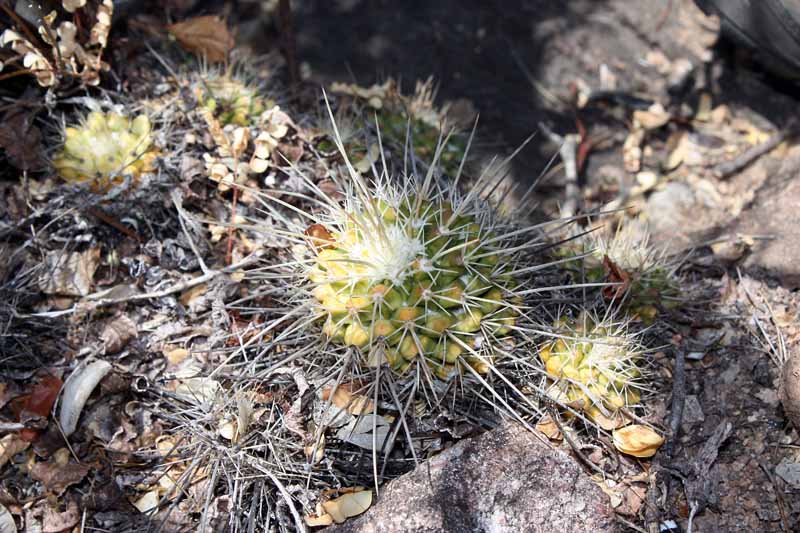 And this plant, which I identified as Mammillaria beisellii, and probably the form known as fma Arteaga.
Arteaga is a town some 40km away from where we were, but the plants we found share the more open body with long spination that this form has, at least in my collection.
Hot and exhausted we finally got back to the cars after this 5km round trip, and in the luxury of air conditioning, made our way on to Morelia where we were to spend our last night in Mexico.
The next day we searched without success for forms of M. rhodantha and M. meyranii. We had some location data but found nothing within our search area. However, we had seen so many plants - and I have just covered the Mammillarias in this series - that we felt that our time had been well spent. And then the usual hectic drive back and through Mexico City to the airport, and eventually home.