or meridiorosea....or ????
When I was in Chihuahua in 2010, I found plants near the Mex-16, east of Yepachi at approx 1928 m, and that I called M. wilcoxii, and they were in flower.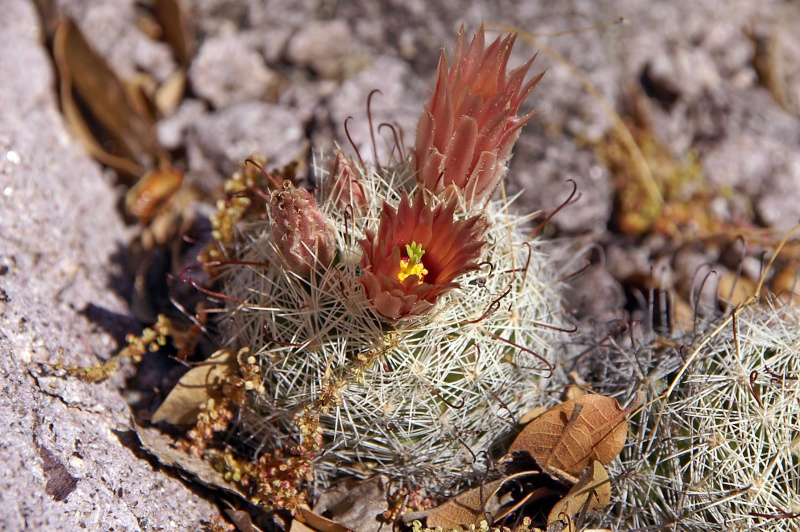 You will note that the flower colour is very different to that described for M. wilcoxii, even those found over the border near Yecora, those being a lovely violet colour.
Lau's collection number 1079 is stated to come from near Yepachi, at 2300m and I have one specimen, but as yet it has not flowered for me. From looking at Yepachic on Google Earth, I cannot find a location near Yepachic at 2300m, which is what he gave for this collection. Most of the higher land around barely gets to 2000m, so that is a bit odd.
Since I was there, I have worried about this plant, and have started to wonder whether, in fact, they were not M. wilcoxii but in fact B. garessii, which is a form of M. barbata. The plant shown above has, on some areoles, two central spines, whereas M. wilcoxii is described as having a single central spine, and indeed, the plants I saw with purple flowers near Yecora did have only a single central spine. The flower colour of my "Yepachic" plants would be more in keeping with garessii. However, I know from experience that plants in habitat can be somewhat variable in spine characters.
Lau collected his Lau 1078 further north of Yepachic, and called these plants M. garessii.
So, if anyone has a photo of either Lau 1078 or Lau 1079 in flower, I'd like to see which, if either, has the "normal" wilcoxii flower, or the reddish-brown flower of the plants that I found. This would add to the information that I have and allow me to make a better informed decision on what species I did actually find.