M. sororia Meinshausen, 1859:
Stem grey-green, tubercles large, broadly compressed-conic, polyhedral, rounded-flattened above, keeled below, ca. 12 mm overall (so then not very large as stated), areoles woolly at first, later naked; axils naked. Central spine 1, ascending, stouter and greyer than radials, radial spines 6, upper, shorter (2-4 mm), lower 8-10 mm, whitish or flesh coloured (pale rose) with black base and tip. Flowers: large, whitish, outer segments greenish with whitish margins and purple tip, inner segments white with greenish purple midstripe,stigmas 4. Loc. typ.: Jaumave and Santa Barbara.
This is an old name, and the photographs that accompanied the message certainly showed a plant with flowers which were unlike those of plants that were identified by Señor Garcia as being M. roseoalba.
Mammillaria sororia
Peregrina Canyon, W. Ciudad Victoria - Tamaulipas - Mexico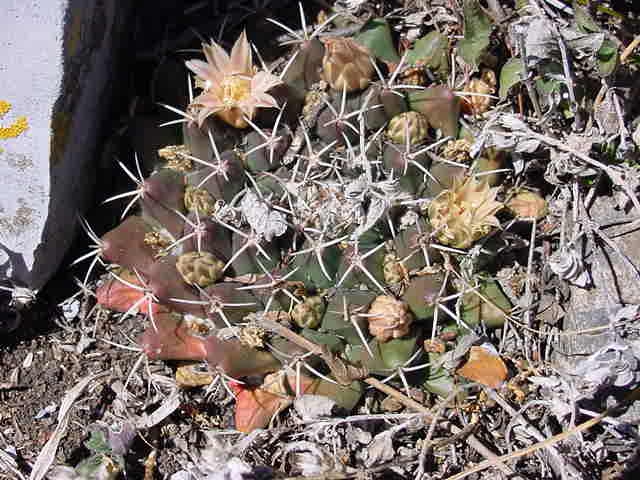 Mammillaria sororia
Canyon Novillo - Tamaulipas - Mexico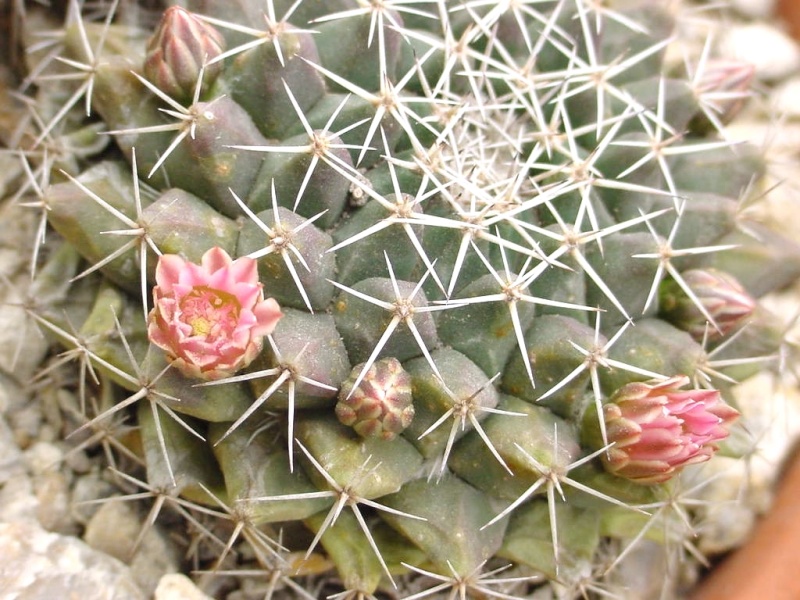 This is the same as my M. roseoalba WTH 1055. The name M. roseoalba may not be applicable to these plants, however. In my opinion, Lau 1170 and a Rogozinski roseoalba from this general region are both related to the roseoalba from Peregrina. But Lex Garcia who lives in nearby Ciudad Victoria will disagree. He was going to describe the Peregrina plants with a new name (I think it was alejandrae, but I am not sure about that). The real roseoalba grows close to Jaumave, but only: in my opinion!
Wolter ten Hoeve - Assen - The Netherlands