The original description from "Die Cactaceae" - Backemberg.
Mamillaria dyckiana Zucc. in Pfeiffer, En. Cact., 26. 1837
M. geminispina tetracantha Lem. (?). — Cactus dyckianus Kuntze.
Pfeiffer beschreibt die Art: Einzeln, halbzylindrisch; Ax. bewollt; W. kurz und konisch, gedrängt, bläulichgrün; jüngere Areolen bräunlich behaart, bald kahl; Rst. 16—18, weiß, steif, stark ausgebreitet, fast verflochten;
Mst. 2, auf- und abwärts gerichtet, viel kräftiger, länger, der unterste der längste, hornfarben, Spitze rötlich, Rst. 5 mm lang, Mst. 1—1,5 cm lang. —
M e x i k o (Abb. 2994).
Mit dieser Beschreibung stimmt weitgehend überein die von H. Neumann aufgenommene Pflanze Abb. 2994, sowohl in der Form wie in der Bestachelung, die Mst. unten etwas verdickt. Die Bl. scheinen hellkarmin mit dunklerer
Mitte zu sein. Rümpler (Handb. Cactkde., 282. 1886) gibt an: "Die
Pflanze scheint nur 6,5 cm hoch zu werden, bei einem Durchmesser von 5 cm.
Ob bloß eine Form von M. acanthoplegma?" Diese Vermutung wurde sicher auf Grund der Form ausgesprochen. Rümpler selbst kannte keine lebenden Pflanzen. Nach Berger sind die W. graugrün, die Bl. rot. Es können bis 4 Mst. auftreten.
Als M. dyckiana ging auch eine Pflanze ohne Mittelstacheln; sie entspricht deshalb nicht der Beschreibung Zuccarinis in Pfeiffer. Die einzige sich ziemlich genau mit ihr deckende Beschreibung ist die von M. irregularis DC. Die Abbildung dieser Art erfolgt daher bei den "Wenig bekannten Arten".
Mammillaria dychiana referred to Mammillaria haageana ssp haageana in "Mammillaria" by John Pilbeam.
The following pictures of Mammillaria dyckiana are from three old italian collections.
Clearly they are not similar to Mammillaria haageana and far from Pfeiffer description.
I don't know how so many plants arrived in these old collections with the same wrong name.
"Ento" Ennio Toso collection:
The plant is labelled Mammillaria dyckiana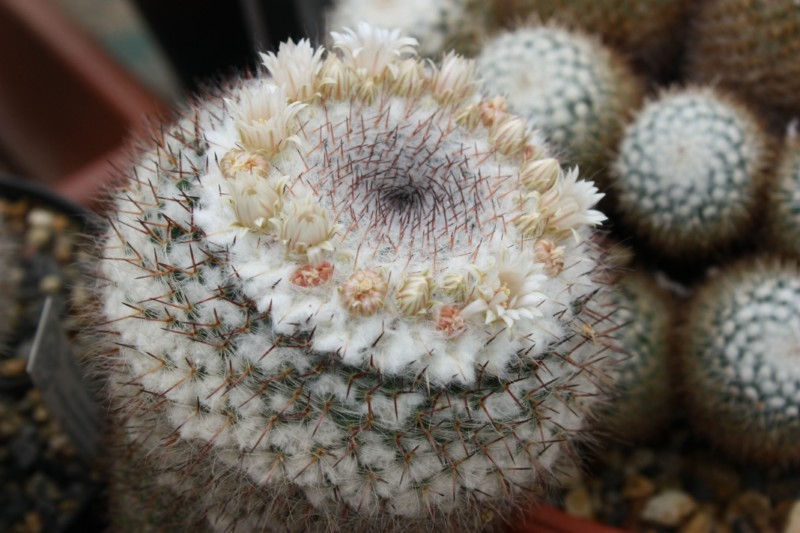 "Vivaio Autore" Crevalcore - Bologna
The plant is labelled Mammillaria dyckiana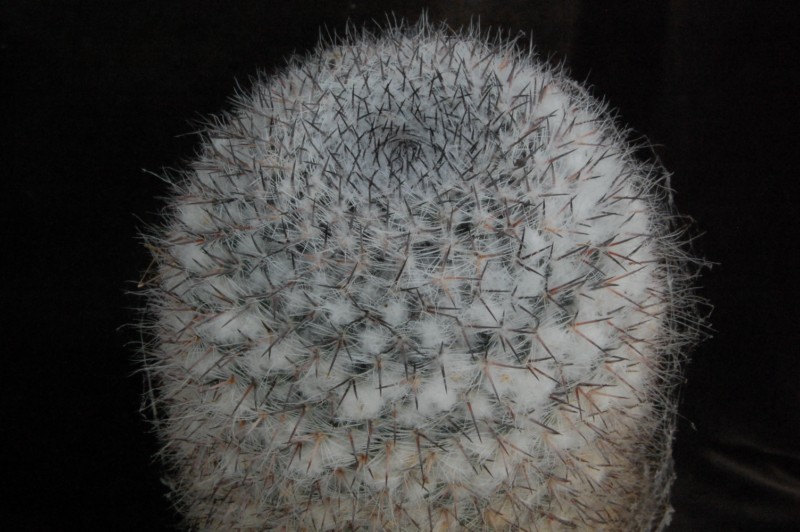 Collezione Gavazzi
The plant is labelled Mammillaria dyckiana